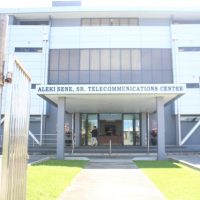 With a few months left before the end of his tenure, Governor Lolo Moliga has sent to the Fono a bill to establish by law the American Samoa Telecommunications Authority, which is currently operating under an executive order that was issued in 1998, by the Tauese Togiola Administration.
The bill would establish the American Samoa Telecommunications Corporation Authority, to be governed by a seven member board, appointed by the governor and confirmed by the Legislature for terms of four (4) years.
The board will select its own chairman and vice chair. Board members shall be compensated at $6,000 per year and $7, 000 per year for the Chairman.
Among the board's duties and responsibilities, outlined in the bill are to hire and establish compensation of the executive management officers including the Chief Executive Officer ("CEO"), Chief Operating Officer ("COO"), Chief Financial Officer ("CFO"), Chief Technical Officer ("CTO"), and other officers that may be necessary as the Board determines.
The CEO shall report directly to the Board of Directors while all other executive management officers report directly to the CEO.
According to the bill's preamble, "ASTCA is presently ready to be empowered to carry out its own charter to mutually benefit the community and the government. It will foster financial stability, promote operational efficiency and encourage overall growth as one of the most relied upon services in the territory. This transition would be in the best interest of the future of American Samoa."
The vice chairman of the House Communications Committee Rep. Faimealelei Anthony Allen has scheduled a hearing Wednesday morning on the bill.
Still pending in committee in the Senate is a bill introduced last September by Sens. Nuanuaolefeagaiga Saoluaga, Fai'ivae Iuli Godinet, and Tuaolo Manaia Fruean which also proposed to establish ASTCA by law.