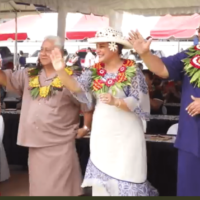 Before a packed crowd Saturday at the Veterans Memorial Stadium the gubernatorial team of Gaoteote Palaie Tofau and Faiivae Alex Godinet officially kicked off their quest to become the next governor and lt governor of American Samoa.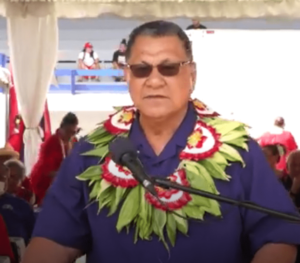 Rev Tony Hollister of the CCCAS Church, Iliili offered prayers and spiritual counsel for the candidates.
Candidate for Governor Gaoteote whose entire speech was in Samoan said he and his running mate Faiivae wanted to continue their service to the people of Tutuila and Manu'a.
Keeping to their campaign slogan, Tautua, derived from the saying, "O le Ala i le Pule o le Tautua" (Leadership through Service), Gaoteote said his life of service began in his family, his village through the aumaga, the US Armed Forces and when he returned home, at the Fono.
He said he is not used to making promises but is used to serving.
Gaoteote pledged to have a government that will provide equally for all the people of the territory, one that would work together with the people and respond quickly to their needs.
He said their platform has been publicized in the newspaper and on social media with priority given to quality healthcare and a thriving economy.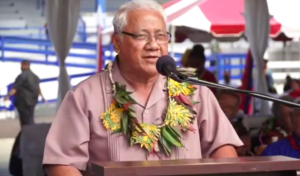 Lt Governor candidate Faiivae who addressed the crowd in English elaborated that the four cornerstones of their faletele, are quality health care, quality education, a vibrant economy and solid infrastructure.
The long time Chief of Staff for the late Congressman Faleomavaega Eni Hunkin said he learned from working with Faleomavega how to respond to the needs of the territory.
Faiivae who is currently senator for Fofo also imparted a lesson he learned from his father, whenever he and his 15 siblings would fight. That is "when we fight with each other we are only hurting ourselves; when we help each other we will be much happier and actually get things done."
The five-hour event started with a parade and featured dancing by the various village committees all dressed to impress, with each committee raising thousands of dollars for the campaign chest. Also in the line up was a group from the Tongan Community in support of Mrs Betty Gaoteote whose mother is Tongan.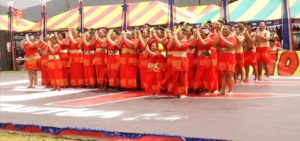 The main sivas of the day were by the candidates and their wives and the chairman of the Gaoteote & Faiivae Campaign Committee, Malaepule Fuega Moliga.
What was announced that day was $288,932 for Gaoteote and his wife Betty and $247,000 for Faiivae and his wife Ilaisa. Malaepule opened his siva with $20,000.
After every dollar was counted the final tally on Saturday was $876,123 with a pledge from off island of $10,000 yet to be added to the total.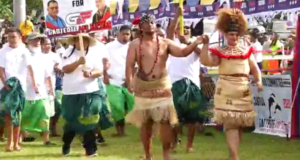 Tags: