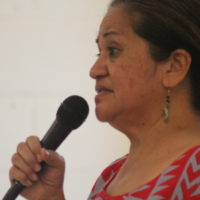 The Department of Health has delivered 20,000 masks to the Department of Education to be distributed to students when public schools resume.
DOE has also received a donation of 2,000 masks from Mr Toloai Ho Ching Jr and CBT company.
Director of Education Dr Ruth Matagi Tofiga briefed the governor, lt governor and cabinet about preparations for the opening of the new school year at Monday's cabinet meeting.
She thanked DOH and CBT for the washable masks which will be used by students when they return to class.
The governor had asked for 45,000 masks to cover both private and public school students.
The first day of class for public schools and most private schools is August 31st though a few private schools have already opened for the 2020/2021 school year, such as Samoa Baptist Academy, Pacific Horizons and Manumalo.
DOE is holding an opening ceremony for the new school year at the Tafuna Elementary Gym next Monday which will be attended by principals, teachers, cooks, bus drivers and support staff.
The director said they've ordered chromebooks and ipads and hopes procurement rules will be relaxed so that the orders arrive before classes begin.
1,000 individual chairs for elementary schools have been ordered and more are expected.
The Director of Health reported at the meeting that DOH completed inspection of 75 public schools and 20 need repair work.
Governor Lolo Moliga directed departments to make this a priority so that all schools will be ready to open.
He said he hopes the new governor will continue the Adopt the School Program.
One of the changes that the Lolo Lemanu Administration made was to move school maintenance from DOE to the Department of Public Works.
Lolo said that five school districts were assigned a coordinator with staff whose job was to fix whatever needed to be fixed in the schools.
He said each coordinator was given a vehicle and a good salary but from what he has observed the coordinators are on leave more than they are at work, yet they are some of the oldest employees of Public Works.
the governor jokingly suggested to the public works director that the coordinators should be fired, then changed that to advise them to do their job.