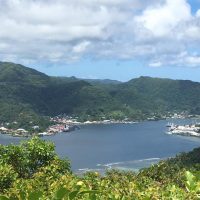 Yesterday a sailboat from Hawaii which reported engine problems and as also taking on water sailed into port.
The mono-hulled sailboat, MV Galatea, with  three people on board, all US citizens, had apparently radioed earlier that it was having engine problems but was told it could not enter the harbor.
The captain is reported to have issued an emergency alert and sailed into port even though it had not been cleared to do so by the Harbor Master.
The sailboat, which is believed to have sailed from Hawaii, is now anchored just off Pago Pago.
A Port Administration official said the captain has been told that they cannot disembark and DOH is enforcing its COVID-19 protocols for the vessel.
It's unclear how the Galatea will be able to conduct repairs  while in port with the coronavirus restrictions.