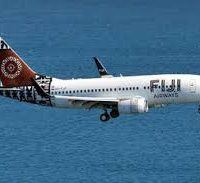 American Samoan residents and students are traveling from Fiji to Samoa on a special chartered repatriation flight. 
It was announced by the Samoa Government in an amended State of Emergency Declaration issued yesterday that the group of travelers from Fiji will not be quarantined in Apia, but must depart for the territory as soon as they arrive at Faleolo Airport.
The travelers have been able to fly from Fiji as part of an approved private chartered Fiji Airways flight organized by a Fijian company who have workers stranded in Apia.
The group traveling from Fiji include students studying there and returning resident doctors.
The date of the charter from Fiji to Samoa is not known but it's expected that the travelers will be flying from Samoa on the inter Samoa airlines, Talofa Airways and Samoa Airways.
No information could be obtained from the Chairman of the Coronavirus Task Force Iulogologo Joseph Pereira as he has stopped answering KHJ News questions for up to three weeks now.  Other members of the Task Force we have approached say Iulogologo is the only one to answer media questions.