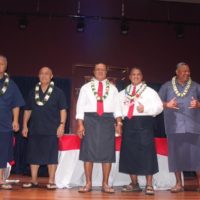 The crowd who filled the ASCC Multi-Purpose Complex last evening heard a lively discussion from three of the five teams which have announced their candidacies for the election of governor and lt governor in the gubernatorial forum organized by
the American Samoa Chamber of Commerce.
The teams of Iaulualo and Tapaau, Nua and Satele and Lemanu and Talauega fielded questions on a variety of topics including development of the technology industry,taxation, health care, tourism and ASG procurement.
Lemanu and Nua answered questions mostly in Samoan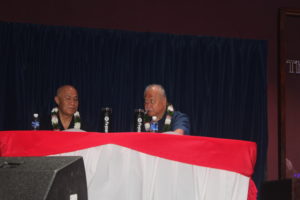 while the rest spoke English, some reading from text of their platforms with the exception of Iaulualo who adlibbed throughout the two hour forum.
This was the first gubernatorial forum this journalist has covered in my nearly 40 years in the territory where the candidates were asked follow up questions based on the their answers.
The candidates appeared relaxed and even showed their sense of humor.
For example Tapumanaia after being asked a question by Raynar said, "Can you ask that question in Samoan?"
And during the closing statements at the end Tapumanaia asked for a chance to introduce his and Nua's wife.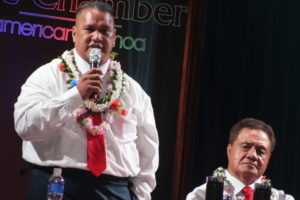 Tapaau took the cue and thanked Tapumanaia for his gesture otherwise he would not remember to introduce his and Iaulualo's wife.
Talauega had already made his closing arguments.
After introducing their wives, Tapaau also introduced "my cousin Talauega's wife".
Lemana's wife was not present.
In the audience were many business owners and employees, a lot of young people, and a few directors and lawmakers.
The camps bought tickets for supporters and the applause from the crowd when the teams spoke was generally the same.
KHJ News congratulates the Chamber of Commerce, vice chair Luisa Kuaea, officers and members for the well organized forum.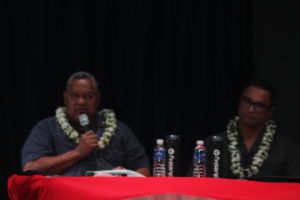 684 Media filmed the event to be aired on Moana TV Channel 6 sometime next week.

We will be airing audio clips of the forum in later news bulletins.

Tags: