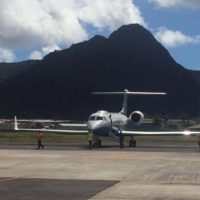 The case of the FEMA contractor who was refused entry and returned on the same flight she arrived on July 17, has prompted the Department of Health to review its requirements for arrivals in the territory. 
At yesterday's meeting of the Coronavirus Task Force, Chief Medical Officer at the LBJ Hospital Dr Iotamo Saleapaga said the woman shouldn't have been allowed to board the flight, and cautioned that while there's a ban on Hawaiian Air bringing in travelers, it's cases like this one that would" put us in a black hole. "
DOH Epidemiologist Dr. Aifili John Tufa explained that FEMA did provide DOH with the woman's negative test result for coronavirus three days before she traveled here. It was only upon her arrival when she was questioned that she revealed she had a positive result three weeks before. 
Director of Homeland Security Alfonso Pete Galeai suggested that perhaps DOH should also require a medical history or ask travelers if they have tested positive before. 
Governor Lolo Moliga emphasized that the travel requirements were left to the doctors and if they feel changes should be made then that should be brought up. He said the policies should be firm and all arrivals should be subject to the same rules regardless of whether they are FEMA, military or the governor.
Play Audio
In other news from the Task Force meeting, the governor announced that Tuimavave Tauapai Laupola is now the Acting Chief Procurement Officer. Tuimavave who was Director of the Office of Public Information/KVZK-TV, was moved in May to the Governor's Office to take charge of the changeover in administration transition report.
Former CPO Dr Oreta Mapu Crichton has resigned to run for Congress. 
The repatriation flights from Samoa will be ending July 31st. As of July 21st, a total of 239 people traveled from Apia on these flights operated by Samoa Airways and Talofa Airways. 173 have completed their quarantine period while 38 remain in quarantine at the Fatuoaiga Center. The number of those who returned to Samoa on the repatriation flights is 170.
Governor Lolo announced that from August 1-17, special skilled and technical workers will be allowed to enter. He said the government has about $200 million worth of projects underway or about to start and there are not enough workers in the territory to do them. He said the group also includes medical personnel but it wasn't clear where the medical personnel are traveling from
The governor ordered that the new buildings constructed behind the Tafuna Health Center should be ready for use to quarantine travelers on August 1st. He said if there are no beds the travelers should bring sleeping mats to use noting that the special skilled workers are strong and don't have health issues. 
DOH has tested a total of 1,367 people for coronavirus including the 274 who traveled on last week's Hawaiian Airlines medical charter to Honolulu, and all of the tests yielded negative results.