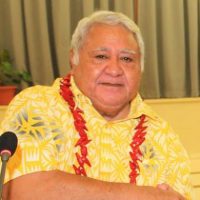 The Samoa Government is about to permanently ban all commercial activities on Sundays.
Prime Minister Tuilaepa Sailele Malielegaoi said on Radio 2AP last week that he had instructed the Attorney General's office to draft a law to permanently close business activities on Sundays.
Under the current COVID-19 State of Emergency orders, all major supermarkets have been allowed limited opening hours on Sunday evenings except smaller shops who are allowed to open "normal hours"..
Tuilaepa also introduced a ban on beach excursions as well as swimming in public swimming places like rivers and public swimming pools.
He quoted the Bible and referred to the fate of Sodom and Gomorrah after straying into the ways of the devil.
"These are all clear in the Bible but these days other countries have legalized businesses such as prostitution," he said.
He went on to say that currently his government was using the SOE Orders to do away with Sunday trading.
He said that people have been pushing to go back to normal Sunday trading but he said it is not going to happen and that all commercial activities shall cease on Sundays.
"The Attorney General's office has already been told to prepare a law that will continue these Sunday closures," he said.
Ironically the ruling Human Rights Protection Party is responsible for reintroducing Sunday trading in the late 1980s, after complaints from the business community, including Chinese construction companies who wanted to continue working on Sundays.
The Samoa Chamber of Commerce has been advocating the easing of restrictions to commercial trading hours including Sunday trading.
Tuilaepa did not give a timeline for the new law to be tabled in Parliament.