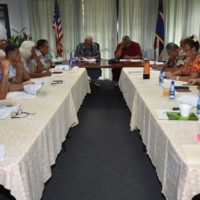 The group that the governor named to recommend changes for the next coronavirus declaration has met and their report to the governor is being prepared.
Governor Lolo Moliga said the group must submit its recommendations by the next Coronavirus Task Force meeting this Sunday.
The group includes the Acting Attorney General,  Director of Health, LBJ CEO, Chairman of the Coronavirus Task Force, the Director of the VA Clinic and the Chief of Staff.
Task Force Chairman Iulogolgoo Joseph Pereira said, "Yes, the small group appointed by the Governor to synthesize the comments and recommendations received from the membership of the Coronavirus Task Force and the Working Group has met and their report is being prepared for transmission to the Governor for his review and final decision."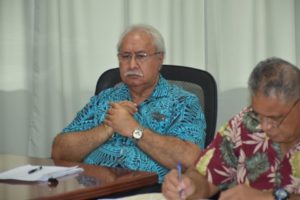 The primary factors which drove the recommendations are:
COVID-19 numbers continue to trend upward with some jurisdictions experiencing resurgence after loosening restrictions.
American Samoa still does not have a sufficient number of Test-Kits to test our first responders, symptomatic individuals, vulnerable population, asymptomatic persons and for random testing of our population.
The Department of Health is still working to improve the integrity of its Contact Tracing Protocol so when we do have a confirmed case it could be effectively deployed to quickly contain the spread before our healthcare system is overwhelmed.
Our Healthcare System can be easily over taxed or collapse if and when we do have COVID-19 outbreak.
There is still very little we know about the nature of the Coronavirus so the longer we maintain our Coronavirus Free Status we will benefit from the current race to find a vaccine or and effective drug to improve recovery outcomes or to gain immunity from being infected.
We still don't have sufficient quarantine facilities to quarantine travelers into our island or our returning residents.
Iulogologo said the Coronavirus Task Force and Working Group have assessed each of the existing restrictions based on the above factors and are recommending easing of some of the ongoing restrictions.
The governor will make the final decision on the presented recommendations.
KHJ News asked while Hawaiian Air flights will be on hold for another 30 days is there any move to repatriate local residents who are "stuck" in the US? And take back those who are stuck here back to Hawaii and the mainland?
"There have been many requests from residents stranded in the US and US residents who are stranded here at home requesting a special flight to bring them home and return U.S. residents back to the US," responded Iulogologo.
"The Governor is very sensitive and very sympathetic with their current plight, but the lives of 60,000 residents dwarf the needs of those stranded locally and abroad," said Iulogologo.
The chairman added, "I know the Governor is not brushing off pleas from our residents stranded in Hawaii, US and Samoa nor is he not constantly thinking of possible ways to bring our residents home without compromising the safety of our residents."