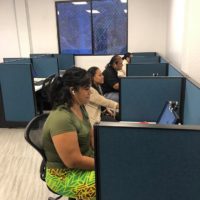 Klaod Solutions, the call center business operated by Luisa and Ken Kuaea put out an urgent call for data entry workers today to service an off island customer.
And by mid morning, with just a few announcements on the Morning Show there were already 30 people reporting to the Klaod Center upstairs of the former ASTCA building next to DPS for interviews.
Initially the company was looking for 50 workers but that number increased to 75 before noon.
Luisa Kuaea said training will be provided by their business partner in New York City and the wage will be $6 an hour.
She said the data entry jobs would last about 3-4 months but if they do well the jobs would be available indefinitely.
Kuaea said the individuals who've responded include people already with jobs and are looking for part time work and others who have not worked for a while.
The interviews would only be conducted today.