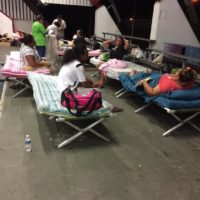 Plans by the governor to have a group of US citizens who were stranded in Samoa after flights out of the country were suspended,  transfer directly upon arrival to a Hawaiian Air flight tomorrow, did not eventuate,.
The group of stranded US citizens are already here.  They arrived here yesterday.
The chairman of the ASG Coronavirus Task Force Iulogologo Joseph Pereira said Governor Lolo Moliga had  no choice because the Samoa  Prime Minister and Cabinet ordered a total shut down of the country starting midnight last night.
"…so all U.S. citizens and returning residents had to be evacuated yesterday,"he told KHJ News.
The governor had indicated that there were about 150 in the group but the exact number who arrived yesterday was not known.
Samoa Airways operated 9 flights yesterday to bring the US group and local residents who were stuck in Samoa.
The US citizens group which includes 15  students are reported to be staying in hotels.
Local residents returning from Samoa are being quarantined at the DWYA Center in Pago Pago, the ASCC Gymnasium and Kananafou.
The wife of one of the travelers quarantined at ASCC asked why travelers from Samoa which doesn't have any COVID-19 cases need to be quarantined  and travelers from Hawaii and other states with cases are being home quarantined.
She also asked why the US citizens group are in hotels and the travelers from Samoa are staying at the ASCC gym which is mosquito infested.
We referred her questions to Iulogologo for comment.
"As the situation worsens in the states and in the Pacific, coupled with our lack of ability to conduct tests or the lack of seriousness shown by our returning residents with regard to the deadliness of this disease, we are taking stronger measures from potential spread of the COVID-19 virus," he said.
"Consequently, we are now requiring all travelers into the territory to be quarantined as the virus can be carried by an asymptomatic person."
According to Iulogologo there will be a new requirement to be instituted soon to address travelers from Hawaii.
"We cannot take any chances as we have seen the disease is lethal and it can spread like wildfire. We are frantically working on building additional quarantine units; some to be completed before the end of the week."
He also explained, "We had to scramble yesterday to find facilities to quarantine our returning residents from Samoa. These are tragic times and will require stringent measures.
"The governor's primary objective is to save lives. We have discouraged travel during this period thus those who don't heed the warning will have to comply with the requirements to save the lives of our people. "
Among those quarantined at the ASCC gym is the Acting Director of Youth And Women Affairs Pau Roy Ausage, who was actively involved in negotiations for Samoa Airways to operate special flights to bring back the stranded passengers.
Photo: ASCC Gym/Courtesy