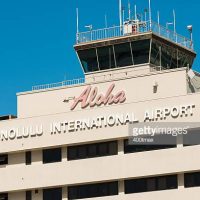 A new requirement that HA passengers must meet before they are allowed to board flights to American Samoa is they must be tested for COVID-19 and the result must be negative.
If the test it positive they will not be allowed to board the flight.
This is one of the requirements under the second amended declaration of continued public health emergency and state of emergency for COVID-19 which Governor Lolo Moliga issued today.
It adds to Code Blue, which the territory is in now, that inbound travelers must obtain a health clearance from a physician with proof of a negative COVID-19 test. The requirement goes into effect March 27th.
The chairman of the ASG Coronavirus Task Force Iulogologo Joseph Pereira said all returning residents and anyone traveling to American Samoa is required to be tested before he or she can board the Hawaiian Airlines flight.
"Health certificates must show the result of the test conducted.  Positive test results will not be allowed to board Hawaiian Airlines.  The traveler bears the cost connected with securing the test," said Iulogologo.
There's also some changes under business hours.  The amended declaration says all businesses will only be allowed to operate from 6am to 6pm.   "Only those businesses that impact food security are exempted from operating hours restriction," has been added.
Also all drive thru and take away restaurants may remain open until 10:00 pm daily for drive thru and food pick up after the closure of dine in facilities at 6pm.  The limit of no more than 10 person occupancy for restaurants, bars and nightclubs remains.
Under public transportation services, the amended declaration states that all are to cease operations at 6pm except for buses under contract with StarKist to provide transportation for employees of the canaries
During hours of operation buses and taxis must institute social distancing practice.  Each bus and taxi may only operate at half the seating capacity.
A paragraph in the "whereas" section of the declaration states: "The people of American Samoa have been exposed to greater risk of being infected because of our sense of patriotism demonstrated by our governor when he, without hesitation, approved the request from the US Coast Guard to allow the Norwegian Jewel Cruise Ship carrying 749 Americans to enter Pago Pago port to obtain fuel to make the voyage to Hawaii.
"And then yet again accepting even greater risk of exposure when the governor allowed Americans stranded in the Independent State of Samoa to enter American Samoa so they can transit to the state on Hawaiian Airlines creating panic given the lack of facilities to quarantine these American to minimize the potential of spread of the COVID-19."