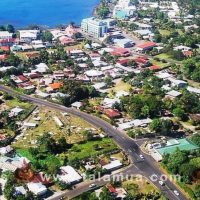 From midnight tonight, all international flights in and out of Samoa will be grounded except for exceptional circumstances with cabinet approval.
Shipping routes in and out of Samoan ports will also be closed except for the purposes of trade, fishing and petroleum products in Apia wharf.
All ferry services between the islands of Upolu and Savaii will also cease.
Travel for passengers between Upolu and Savaii will cease. This does not include ferry travel for trade and Government services," says revised SOE orders signed into law today by Head of State Tuimalealiifano Va'aletoa Sualauvi II.
All supermarkets will also have restricted trading hours from 6am until 4pm until further notice.
The orders come with hefty fines to ensure they are obeyed.
For an individual, $200 for a first offense, and $500 for a continuous offense; and for an organization or corporation or similar such legal entity, $5,000 for a first offense and $7,000 for a continuous offence.
Other parts of the original orders remain such as the week of fasting and prayer which ends Sunday, March 29 and failure to pay such fine within 24 hours will earn a prison term of up to 3 months.
Still in place is the ban on gatherings in groups of more than five people which includes church services, weddings, funerals, reunions and birthday celebrations.
All nightclubs and restaurants will also be closed except restaurants who will be allowed to offer only takeaway services.
The Samoa Police Service are charged with enforcing the new orders.