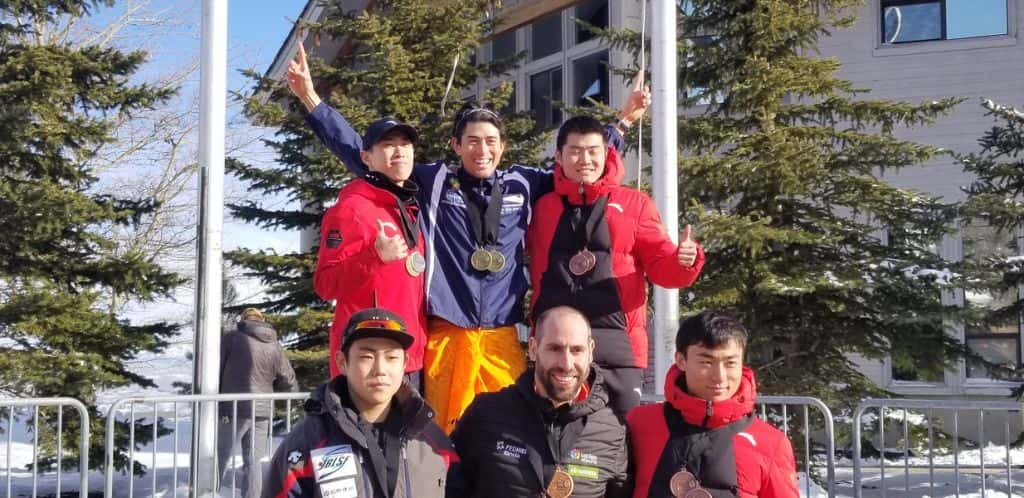 Nathon Ikon Crumpton has won American Samoa's first medal in a winter sport.  And a gold medal at that. The Salt Lake tribune reports that Crumpton tied for first in the North America's Cup skeleton races at Olympic Park.
He followed that up with outright wins in two other races.
For his three wins, "Amerika Samoa", the national anthem was played three times during the awards ceremony.
The Salt Lake Tribune said Crumpton had an ie lavalava tied around his waist which set him apart from the other sliders bundled up in puffy jackets and snow pants .
Bright orange and floral, it was eye-catching — but not nearly as much so as his results.
"When I crossed the finish line, there's a clock, and I could see a No. 1 by my name, said the 34 yar old Crumpton.  It's a huge sign of relief.  You hit those pads going 60 miles per hor but it doesn't matter because the number said 1″.
More than the medals around his neck and perhaps even more than a place in history, what really mattered to Crumpton is how many points they accumulated toward their World Cup standing.
Though the NorAm Cup races are two tiers below the World Cup, the circuit can serve as an incubator for aspiring Olympians — especially ones competing for nations not known for their winter sports prowess.
American Samoa has been represented in the Winter Olympics just once, by a two-man bobsled team in 1994.
Crumpton, who competed for Team USA in an Olympic test event prior to the 2018 Games in PyeongChang, South Korea, and still holds the American start record for that track, would like to give the American Smaoa  a second entry.
Photo: Salt Lake Tribune