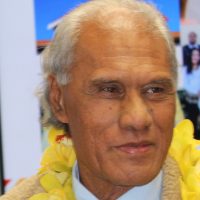 Governor Lolo Moliga has paid tribute to the Prime Minister of Tonga Samiuela Akilisi Pohiva who died earlier this week in New Zealand.
In a statement released this morning Lolo said, "The sad and sorrowful news of the recnt passing of the Prime Minister of Tonga Hon Samiuela Akilisi Pohiva has certainly sent a shock wave throughout the Blue Paciis as one of its premier leaders has been called back to his eternaly home by his Lord and Master."
The governor met the Tongan PM at the 2017 Polynesian Leaders Group meeting in Apia which Pohiva chaired.
Lolo said, Pohiva's life journey "depicted by his commitment to the advancement of democratic principles and championing the cause of the commoners reflect values worthy of emulation…"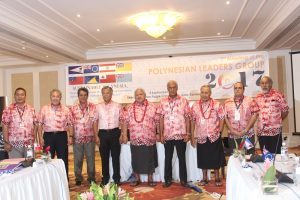 On behalf of government and traditional leaders, the lt governor and the people of American Samoa,  which includes the Tongan Community, Governor Lolo extended deepest condolences to His Majestuy King Ahoeitu Tupou VI and the people of Tonga for the passing of their Prime Minister.
He said,"It is certain that Honorable Pohiva will be sorely missed by the Tongan Government, its people and the Pacific region as well."