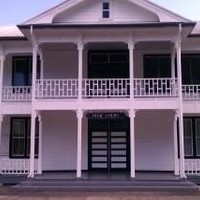 The High Court has ruled that possession of the chemical cannabidiol or CBD is illegal in American Samoa under the territory's drug laws.
The ruling by Associate Justice Fiti Sunia, Associate Judges Mamea Sala, Jr. and Tunupopo Alalafaga, was in response to a motion by defendant Togamamao Letuligasenoa to dismiss a charge of unlawful possession of marijuana against him.
Arriving  on a Hawaiian Air flight from Honolulu on September 13, 2018, Letuligasenoa was found during a search by Customs to be carrying two containers of CBD oil.
A narcotics detective tested the CBD oil and found that it contained tetrahydrocannabinol (THC), the active ingredient in marijuana.
Letuligasenoa moved to dismiss the charge of possession of marijuana arguing that the statute defining marijuana is unconstitutionally vague as applied to CBD oil or as oil, CBD is excepted from the definition of marijuana under local statute.
The defendant cited literature stating that CBD is a chemical derived from marijuana and is "non psychoactive, meaning it won't get you high".
The court, in its discussion, said any person has the right to know what conduct is forbidden by law.
Hence, a penal statute must give a person of ordinary intelligence a reasonable opportunity to know what is prohibited so that he may act accordingly. The judges found that the law in this territory is plainly clear – possession of marijuana is illegal.
And according to the statute, marijuana is defined as all parts of the plant cannabis and every compound, manufacture, salt, derivative, mixture or preparation of the plant.
Said the court, "We consider CBD oil a product manufactured, derived, mixed and prepared from marijuana.  By definition, therefore, CBD oil is marijuana regardless of whether or not it is psychoactive and unless and until the Fono tells us otherwise."
The motion to dismiss is denied.