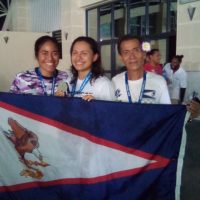 American Samoa is now on the medal board for the 16th Pacific Games after our lone competitor in swimming, Tilali Scanlan, clinched a silver medal in the 50 meter breast stroke.
Tilali clocked in at 33.98 seconds while Fiji, who won gold finished at 33.39. Tahiti settled for bronze at 34.09.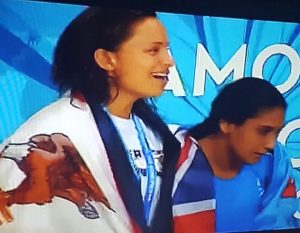 Smiling proudly with the American Samoa flag draped around her, Tilali received her Pacific Games silver medal, the first athlete on Team American Samoa to have that honor. Tennis star Charity Sagiao and Chef de Mission for Team American Samoa, Falefata Moli Lemana, watched and cheered her on at the Aquatic Center, Tuanaimato.
Congratulations and malo lava Tilali for winning our first medal.
The day before we talked to her and she was upbeat about her medal chances.
Play Audio
Our other medal hopefuls—the women's basketball team—continued their winning streak. Yesterday, they defeated Pacific powerhouse Guam 85-76.
Tagged as one of the tournament's favorites, especially being the silver medal of the 2015 Pacific Games, ASA jumped on Guam right away to build a quick 47-31 lead at the half.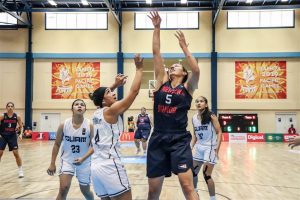 Our girls then did a good job protecting the driver seat entering the final canto with still a 67-55 lead but Guam, refusing to quit, uncorked a 14-7 spree to trim the deficit to just five, 69-74, with 4:46 to go.

American Samoa then answered with a 6-2 spurt to pretty much seal the ball game at 80-71 in the last two minutes as Guam eventually ran out of steam in a failed comeback attempt.

Malia Nawahine and Sarah Toeaina teamed-up in ASA's big win, combining for 43 points and 20 rebounds.

Leah Salanoa and Jazmine Davis also stepped up with 15 and 13 markers, respectively, as ASA improved to 2-0 in Group B.

ASA just came off an 85-61 win over Tahiti earlier.

For today our female tennis players Charity Sagiao and Kalani Soli are in the semi finals for singles and doubles.

Our men's beach volleyballers are up against Australia in the semi finals.

Our women's beach volleyballers face Vanuatu also in the semi finals.

Our indoor men's volleyball team play Samoa in their first match.

And our women's and men's rugby teams will begin play today.

Meanwhile our men's soccer team face Tuvalu and our sailors continue their races which were called off yesterday.

Tags: