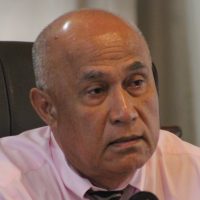 The Board of Trustees of the American Samoa Government Employees Retirement Fund is not signing a new agreement presented by the American Samoa Telecommunications Authority and ASG that would basically return ownership of the Hawaiki Cable to ASTCA.
The 2018 agreement put ownership of the Hawaiki Cable in the hands of the Retirement Fund when the Fund loaned ASTCA $18.7 million. The Fund then leased the Hawaiki Cable to ASTCA.
Retirement Fund Executive Director Iaulualo Talia Faafetai, in response to KHJ News inquiries, said they were presented with a draft agreement without any prior discussion.
After reviewing the agreement, the Board of Trustees are deadset against signing it.
He confirmed that the Retirement Fund was presented a $10.3 million check, apparently from proceeds of the December bond sales by the American Samoa Economic Development Authority.
The Board of Trustees applied $4.2 million to ASTCA's December loan payment and the balance to future payments.
He said the balance represented 2-½ years of loan payments.
During his State of the Territory address, Governor Lolo Moliga said that the Hawaiki Cable has been fully paid and  now owned by ASTCA.
Iaulualo says this is not the case. The Retirement Fund still owns the Hawaiki Cable as per the agreement signed with ASTCA, which has not been amended and still stands.
When KHJ News asked Iaulualo about reports of ASEDA having come into the picture and the reported payoff of the ASTCA loans from the Retirement Fund through ASEDA, he said the Retirement Fund never dealt with ASEDA on these loans.
The loan agreements are between the Retirement Fund and ASTCA and he doesn't know where and how ASEDA comes in.
He said the Board is thankful ASTCA is making payments toward its loans with the Retirement Fund but as far as the new agreement to revert ownership of the Hawaiki Cable to ASTCA, the Board is not going along with that.