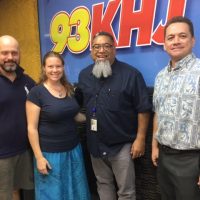 The first Ocean Plan for American Samoa  is completed and community meetings are being held this week to explain it.
The plan has been in the making for 2 1/2  years and is the sum of several discussions and meetings with village leaders, ocean users, developers, and local and federal government  officials.
The plan provides guidelines, data and information to guide uses and development in and near the ocean.
The National Marine Fisheries Service Pacific Islands Regional Office funded the plan and Lynker Technologies was the contractor that compiled it.
Michael McDonald of the Department of Commerce explained the benefits of having the ocean plan for American Samoa.
Play Audio