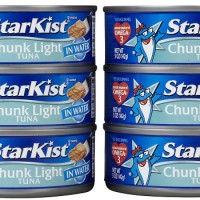 A report in the Wall Street Journal says the tuna industry is taking a dive it may not be able to come out of as consumers look at healthier dietary options.
In a story in yesterday's edition, the Walll Street Journal says century-old tuna companies such as StarKist Co., Bumble Bee Foods LLC and Chicken of the Sea International are trying to reboot demand for tuna fish—selling it in cans, pouches and meal kits, or as a healthy snack—as they seek to hold on to their dominance in a shrinking market.
Canned tuna is struggling to connect with younger generations who favor fresher, less-processed options. It is also dealing with competition from newer and fancier brands, which see an opportunity to innovate in a category they say big brands have let slide.
The big three tuna companies together still command 80% of sales, but the overall industry has shrunk sharply. Per-capita consumption of canned tuna has dropped 42% in the three decades through 2016, according to the latest data available from the U.S. Agriculture Department.
And the downturn has continued, with sales of the fish slumping 4% by volume from 2013 to October 2018, according to market-research firm IRI.
StarKist says it won't abandon the tuna that sustained it for a century, but the company is repositioning itself more broadly. It began selling salmon in 2015 and launched its first chicken pouches this year.
"In order to bring excitement back to the category, we have to be more creative," said Jan Tharp, Bumble Bee's interim chief executive.
The traditional tuna makers are facing problems that have plagued other providers of packaged foods, such as soup.
In a country focused on convenience, canned tuna isn't cutting it with consumers. Many can't be bothered to open and drain the cans, or fetch utensils and dishes to eat the tuna.
"A lot of millennials don't even own can openers," said Andy Mecs, vice president of marketing and innovation for Pittsburgh-based StarKist, a subsidiary of South Korea's Dongwon Group.
Younger consumers are opting for fresh or frozen fish over canned items.
Just 32% of consumers aged 18 to 34 recently bought canned fish or shellfish, compared with 45% of those 55 years old and older, according to market-research firm Mintel.
"People are diversifying their palates," Mr. Mecs said.