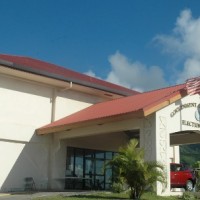 This time tomorrow polling places on Tutuila, Aunuu and Manu'a would have been opened for an hour allowing the territory's 15,542 registered voters to cast ballots for their District lawmakers to the American Samoa House of Representatives, American Samoa's delegate to the US Congress and a referendum on whether the Fono should have the veto override power which now rests with the US Secretary of the Interior.
The Election Office has identified and publicized 41 polling places where voters will cast their ballots.
Manu'a will have polling places in Manu'a while those residing on Tutuila will vote at the Lee Auditorium.
Swains Island voters will cast ballots for the congressional race and the referendum at the Election Office. Their faipule to the House has already been selected.
Polling places will open from 6 am to 6pm and under election law employers are required to allow employees at least two hours for purpose of voting.
Whereas absentee ballots used to be counted at the Election Office, that's not going to happen tomorrow.
Absentee ballots will be sorted today and then distributed to polling places where they will be counted with the rest of the ballots in the districts tomorrow.
When ballot papers are opened, all three election results will be announced, beginning with the American Samoa House of Representatives, then the Congressional race, followed by the referendum vote.
An election supervisor will write the results on a board as the ballots are opened and the results will be tallied, then communicated to the Election Office.
KVZKTV will be airing the results from the Election Office beginning at 7pm.
The Election Office advises that access to their office will be restricted tomorrow.
Police will be guarding the office from early morning till all the election results have been announced.