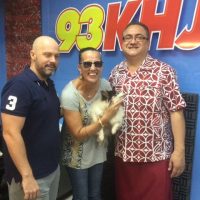 When it was founded more than 20 years ago, the mission of Honolulu-based Pacific Islanders in Communications was to enable Pacific islanders to make films and documentaries that help promote deeper understanding of Pacific island history, culture and people.
PIC has indeed added to the library of films written, produced, directed and starring Pacific islanders.
Each year PIC screens films that it funds at various festivals.
October 18th is when some of the  PIC funded films will be shown here.
The 5th Deep Ocean Film festival will be held at the American Samoa Community College multi purpose center from 12:30 pm to 2:00 pm.
Former PIC Board member Regina Meredith Fitiao explains some of the films that will be shown.
Play Audio
Current PIC Board member Tialuga Vincent Iuli hopes that the festival will inspire some of the students and story tellers of American Samoa to go into film making.
Play Audio