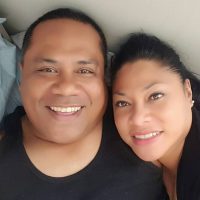 One of Samoas most popular musicians has succumbed to cancer.
Ma'ilo Ben Vai passed away in Auckland New Zealand early this morning.
Having grown up in Kingston, Jamaica, where his father, Rev Dr Peniamina Vai was a missionary, he was greatly influenced by ragamuffin and by the time he returned home Ben was singing reggae.
He spent time in Fiji after his father was called to teach at the Pacific Theological College, and it was there that he became a name in the music scene in the Pacific.
Vai formed a band with Fijian musicians and was a regular on FijiTV as well as the radio.
When his parents went to minister in New Zealand Ben returned to Samoa where he became an institution in the music scene in the early 1990s.
One would not be considered with high regard if you didn't collaborate with Ben Vai.
He has performed at several gigs in the territory and was on the stage for the first two Samoana Jazz and Arts Festivals.
Ben Vai developed his own style of music, loved his reggae, ragga, but also sang beautiful soul with an awesome voice.
He was a singer, composer and music producer who enjoyed mentoring young up and coming musicians. He collaborated with many of them.
No musical event would be complete in Samoa without Ben Vai being involved until he migrated to New Zealand to seek treatment for his cancer.
Ben was bestowed the matai title Ma'ilo in his fathers family at Vaiala, Samoa.
Listen here to one of his songs.