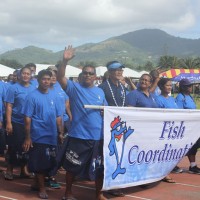 Congress has extended for one-year, the American Samoa Economic Development Credit, key for the territory's tuna industry. KHJ News Washington correspondent Matt Kaye reports—
The tax credit that lowers the federal tax burden on qualifying US firms in American Samoa, including Starkist Samoa, is extended for 2017 in the 2-year budget bill President Trump signed last week, that keeps the government open.
The credit has been in place since 2006, but lapsed in 2016, when Congress failed to extend many tax breaks,raising concern American Samoa's remaining cannery would either reduce operations or close.
The latest extension covering last year, comes just in time for tax-filing season, while a longer-term extension will still need separate legislation.
Congresswoman Aumua Amata Radewagen won inclusion of a 6-year extension of the credit in last year's House tax reform bill, but the Senate did not include it, and the extension never made i tinto the final enacted legislation.
Radewagen called extending the tax credit a priority for American Samoa's economy to encourage investment and preserve precious local jobs.
Starkist Samoa employs some 2300 workers in American Samoa.
StarKist's President and CEO told the Wall Street Journal last year, the tax credit is "critical" for the firm to continue operating in American Samoa.
Congresswoman Radewagen says a longer-term extension will allow for "better planning and stability" of the local economy…and she vows to continue pressing for that outcome.