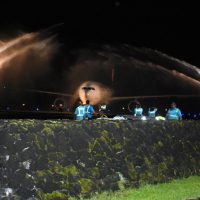 It was a festive mood at Pago Pago International Airpott last night for the arrival of the first Hawaiian Airbus 330 200 flight on the Honolulu Pago Pago route.
Officials of the airline, led by Senior Vice President for communications and Public Affairs Ann Boticelli arrived earlier yesterday via New Zealand for the welcoming and were joined by Lt. Governor Lemanu Peleti Mauga,  Secretary of Samoan Affairs Mauga Tasi Asuega, Port Director Taimalelagi Dr. Claire Poumele, Director of the American Samoa Visitors Bureau David Vaeafe and representatives of the Governor's Office.
Miss American Samoa Matauaina Toomalatai was also part of the welcoming party.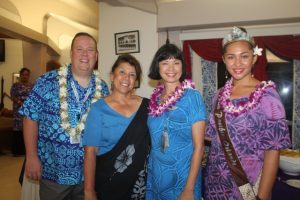 Airport fire trucks  parked on both sides of the aircraft sprayed it to applause after the plane landed safely, about 15 minutes early…the Hawaiian Air livery adding color to the tarmac on a breezy and overcast evening.
Inside the VIP room, Lt. Governor Lemanu spoke on behalf of Governor Lolo to congratulate and thank Hawaiian Air for bringing a larger and comfortable plane
Play Audio
Ms. Boticelli said after 34 years of service to American Samoa this was a happy and proud moment for Hawaiian Air.
Play Audio
Director of Port Adminsitration Taimalelagi Dr. Claire Poumele and her staff was given special mention by the airline official.
Also on the inaugural airbus flight was the President and CEO of StarKist Co., Mr. Andre Choe and 7 other officials from company headquarters.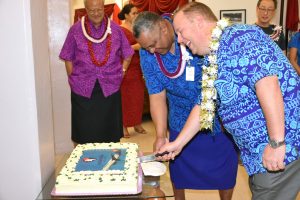 Congresswoman Aumua Amata was also on board but was not among the guests who came through the VIP lounge, though she had been invited.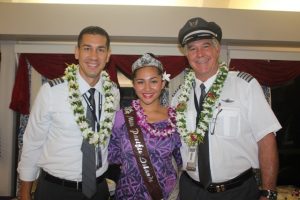 The two captains were Kevin Hardin who flew for SPIA beginning in 1982 and was also at the wheel for the first Hawaiian Air flight to American Samoa in 1984 and Hawaii Senator Clyde Kanahele.
Captain Hardin who is married to Carol Cho of Pago Pago recalled that a baby was born on the return inaugural flight to Honolulu.
In a completely unplanned meeting, the Captain was reunited with that baby, last night,  at Tafuna airport.  That story in another bulletin.