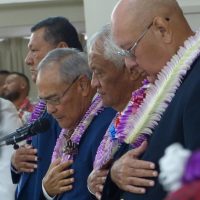 In his 30 minute speech before a joint session to open the third regular session of the 35th Legislature this morning, Governor Lolo Matalasi Moliga stressed the fact that if leaders work together much can be achieved. Monica Miller reports:
The governor continued on the theme of past state of the territory addresses, highlighting that a united front by the executive branch, the Fono and American Samoa's representative to Congress has brought about some milestone results for American Samoa.
He cited as examples the following: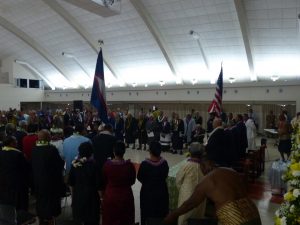 the Honolulu Federal District Court ruling on the Large Vessel Prohibited Area, which overturned a federal rule that would have allowed longliners to fish within 12 miles from shore.
American Samoa being awarded a portion of the fine for StarKist Samoa for dumping tuna sludge in the harbor.
and the approval of the routing number for the Territorial Bank of American Samoa.
The governor stated with all certainty that had it not been for the leaders working together and presenting a united voice, the successful outcome on these issues would not have been possible.
He called on the Fono and congresswoman for a continuation of this spirit of cooperation so that more could be achieved for the territory.
Regarding the government's financial condition, the Governor said he was happy to announce that ASG closed Fiscal Year 2017 in the black.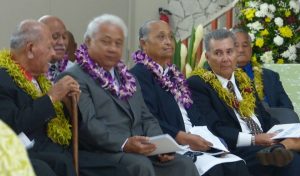 He told the Fono even though the positive financial position is no where close to $100,000 still it's a plus rather than a deficit.
The governor said it was a difficult year due to the closure of Samoa Tuna Processors at the end of 2016 and revenues from cigarette taxes taking a dive due to corporate events in the US which the territory had no control over.
Lolo reported on major projects which have been completed to include the new multi purpose hall for the American Samoa Community College which will be dedicated tomorrow and the service wharf which will be officially opened soon.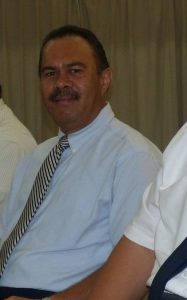 Regarding director appointees he announced that deputy director of the Department of Human and Social Services Muavaefaatasi John Suisala has been nominated to the directorship.  The post became vacant with the recent passing of former director Taeaoafua Dr. Meki Solomona.
Other appointees are Marie Alailima Lafaele as administrative law judge and Ken Tupua as Director of Parks and Recreation.