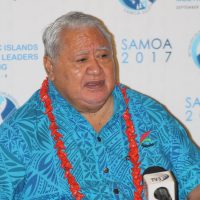 Samoa Prime Minister Tuilaepa Sailele says passage of the criminal libel law should send a warning that people who abuse freedom of speech will be dealt with.
The PM told the Samoa Observer that people hiding behind pseudonyms on blogs and social media pages should know thy cannot hide forever.
Tuilaepa deflected claims that the aim of the criminal libel law was to cripple media who criticize the government.
He said the media has nothing to worry about if they stick to reporting the facts.
According to the PM, of about 30 reporters in Samoa, only a few write inaccurate stories.
But their stories are reaching 189, 970 people in the country.
He said the government's concern lies with the people who are affected by the inaccurate information by some reporters.
The PM said some reporters continue to defame members of the public, not only by publishing inaccurate information but also publishing photos showing an ugly person or a photo about something that happened about 20 years ago.
Tuilaepa maintains that the criminal libel law affords the opportunity to low income families who are defamed to get justice.