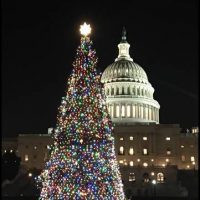 Congresswoman Aumua Amata in her holiday greeting reflects on legislation that she has worked on this past year.
She says she's completing her third year in Washington, D.C. as a Member of Congress, and "this year has been particularly busy and eventful."
Aumua said, "I serve on three Committees, and in total, all the Committees of the House passed 544 bills this year, and of those, 477 were passed by the whole House – both higher than average activity."
The congresswoman says she looks forward to talking more about all that's been done when she update the Fono next month, and throughout the year in town halls.
For now, she plans to spend the holidays with her family.
The congresswoman wishes everyone happiness this holiday season.
"Enjoy the food and the free time, along with family and friends.
"May God bless you, and God bless the United States and our beautiful islands of American Samoa.
"We look forward to a wonderful New Year ahead, and I will see many of you soon. Soifua"