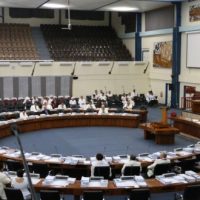 In less than an hour, Samoa's Parliament yesterday reinstated the criminal libel law, abolished by the ruling Human Rights Protection Party only in 2013.
Prime Minister Tuilaepa Sailele Malielegaoi said last month that his government was planning on bringing the law back to deal with social media bloggers who write defamatory remarks about others.
One such blogger, O le Palemia, has been a thorn in the HRPP government's side, making sweeping accusations of corruption, nepotism and even adultery, particularly against Tuilaepa.
An on going police investigation into the blogger has failed to identify the unknown writer that some members of the public believe to be a group of writers.
In tabling the bill, Justice Minister Fa'aolesa Katopau Ainu'u told Parliament that the law will be criminalized allowing everyone the opportunity to take matters to court without having to pay lawyers because they would be represented by the police.
The new law will see guilty parties fined or imprisoned for up to three months.