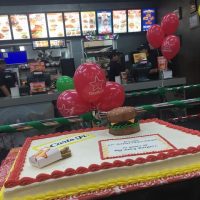 Carls Jr at Laufou in Nu'uuli turned ten today and the popular fast food restaurant hosted a celebration to say thank you to customers for their support.
It was the larger than usual char broiled burgers that enticed many when Carl's Jr. opened its doors ten years ago.
Now many are going there for salads and other non menu items.
Barry Forsgren, the local franchisee for Carl's Jr. said for their tenth birthday they are saying thank you by giving back to the people who contributed to their success, their customers.