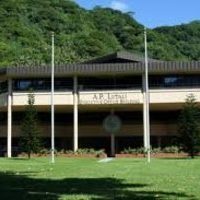 Since November 7th the time clocks for the Immigration Office in the AP Lutali EOB and the airport have been disabled.
Attorney General Talauega Eleasalo Ale said in a memo issued that day that this is an extreme measure to combat the continuous disregard for the ASG overtime policies and the Legal Affairs policies on attendance and overtime.
He ordered that except for the airport staff, immigration officers must clock in and out using the time clock at the AG's Office.
He spelled out in the memo that working hours are from 7:30 am to 4pm.  And employees cannot clock in before 7:30 am or clock out after 4pm without his prior written approval.
The AG said that airport staff supervisors would be responsible for recording the work times of the airport staff and turn them in on a weekly basis directly to the AG's Office.
KHJ News had sent the AG questions regarding delays in the issuance of paychecks for Immigration Office employees in the last pay period and what would happen to the workers paychecks next week.
KHJ News reported this morning that for the previous payperiod,  time cards for the Immigration Office had not been processed with the rest of the AG's Office.
This was because the employees followed the Chief Immigration Officer's instructions to clock in at the Immigration Office and aiport, and not the AG's memo that they punch in at the AG's Office.
The AG sent KHJ News his memo of November 7 as well as an October 7 executive order from Governor Lolo regarding  overtime and compensatory time policies.
The governor's order states that it is the general policy of ASG not to incur overtime but if overtime was necessary, directors must obtain approval in advance  and they must justify the need for such overtime.
According to Immigration officials who spoke with KHJ News, despite the memo from the AG, Chief immigration Officer Peseta Dennis Fuimaono  authorized them to continue clocking in at the Immigration Office and at the airport.
This led to the AG rejecting their time cards in the last pay period.
They understand that the same thing will happen in the next pay period.
It has been pointed out to KHJ News that the overtime costs for employees like immigration, quarantine and customs, are covered by after hours fees which are paid by airlines, shipping agents, freight forwarders  and importers.