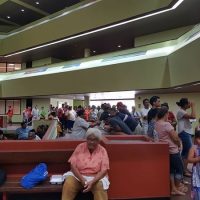 From 6 this morning to past 4pm, more than 300 people stood in lines that snaked through the atrium of the AP Lutali Executive Office Building.  And they were not waiting for tax refunds checks. They were waiting to have their photos taken to renew or obtain immigration ID cards for the first time.
Up to last week, the practice  is that immigration ID cards are issued every day accommodating both sponsors and immigrants and alleviating crowds at the Immigration Office.
But last week, Attorney General Talauega Eleasalo Ale, with the blessings of the Immigration Board, decided that beginning this week, the only day that photos for ID cards can be taken is Wednesday.
There were children, elderly people, business people, and employees in the  private sector in the slow moving lines which filled the EOB atrium throughout the day.
When KHJ News was at the EOB after 3 pm, the lines were still backed up to where the ATM machines are nea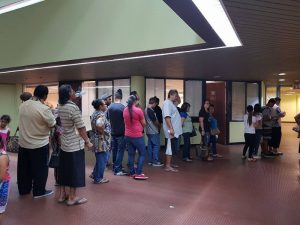 r the Tax Office.
Several of the people we spoke to said they were there from 6;30 am and they were tired and hungry, not leaving the lines to get something to eat, or they would lose their place.
Governor Lolo Moliga saw the crowd as he entered the EOB in the morning and when he left his office.
When asked for an explanation about the change, Attorney General Talauega Eleasalo Ale said it was part of efforts to implement the governor's directive to deal with illegal immigration.
He said that the Immigration Board felt that restricting the taking of immigration ID  photos on one day would help control any discrepancies.
Since it was after 3 and there were still more than 100 people waiting for their turn, we asked what would happen to those who cant get their IDs done today.
He said they would have to come back next week.
Immigration officials said they felt sorry to see elderly people wait in line for hours, but there was nothing they could do as the AG had made up his mind.
Chief Immigration Officer Peseta Dennis Lutu declined to comment and referred us to the AG.
Several business people complained that this was a badly planned move which has caused unnecessary  distress and wasted time for sponsors and  immigrants many of whom have labor type jobs which do not pay when they're not at work.