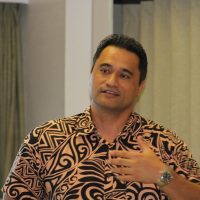 Yet another memo was issued today by Attorney General Talauega Eleasalo Ale on American Samoa Entry permit requirements.
The memo sets out immigration policies consistent with Governor Lolo Moliga's policies to combat illegal immigration which were announced in a memo dated August 29th .
All permits are now issued by the Attorney General or his designee.
The Immigration Office is no longer authorized to issue entry permits.
According to the AG's memo, visitors are required to get an entry permit before entering American Samoa.
The only exceptions are: US nationals,  US citizens and legal residents of American Samoa seeking entry, citizens of countries on the American Samoa Entry Permit Waiver Program list and transition immigrants entering American Samoa in transit to another final destination, so long as the immigrant departs within 24 hours of arrival.
A local sponsor is required to bring a foreigner into the territory on a permit.
The sponsor must provide:
proof of private land through a deed or in the case of communal land, signatures of sa'o or head matai and village mayor,
a round trip or onward ticket
pay the $40 fee
obtain clearance from the High Court
clearance from the LBJ Hospital
Clearance from Homeland Security
Police clearance from country of origin and a health clearance from country of origin.
The application for a permit must be submitted to the AG's Office no later than 30 days before travel.
Citizens of Samoa may continue to apply for 7, 14 or 30-day permits using the existing process except that all permits for Samoa must be approved by the AG or  his designee.
Requirements for 30-day entry permits from Samoa are the same as stated above.
Fishing crew immigrants entering American Samoa to board a fishing or commercial vessel are required to get an entry permit approved only by the AG or his designee.
And this is even if the crew member boards a boat the day he arrives and stays out fishing for an entire month or longer.
Crew members also need:
 a local sponsor
a rountrip or onward ticket
pay the $40 permit fee
obtain clearance from the High Court
clearance from  the LBJ Hospital and
have valid passport or travel document.The AG stressed that all entry permits must be approved by himself or his designee.  The Immigration Office is no longer authorized to issue entry permits. Talauega also issued a revised memo regarding the