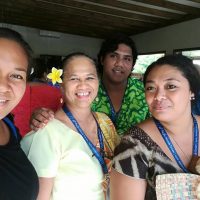 Former KHJ News and Samoa News reporter, Joyetter Feagaimaalii Luamanu, was among recipients recognized by an environmental group, Conservation International, for their coverage of oceans and climate change in Samoa.
Luamanu, who is now chief reporter of Samoa's daily newspaper, Samoa Observer, received her award in a ceremony at the Nourish Cafe yesterday.
Also recognized was Jack Seumanutafa of TV1, who is the voice and producer of Tala Mai Samoa, or news from Samoa in Samoan that's aired on V103 Monday to Friday.
Samoa's Minister of Marine and Natural Resources and Environment and deputy Prime Minister Fiame Naomi Mataafa was also one of the awardees.
The global CEO of Conservation International, Dr. Sanjayan, presented the awards.