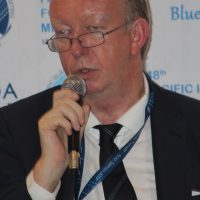 Community based canneries is being promoted to use fish not wanted by major  fish processing plants as well as canning other food like taro and breadfruit.
The project is being spearheaded by the Parties to the Nauru Agreement office based in the Marshall Islands.
Speaking in Apia after the Civil Societies Organizations engagement with the Forum Leaders, PNA commercial manager Maurice Brownjohn said the potential is huge not just in terms of commercial value adding but of more  importance to the region, food security.
Play AudioCommunuity-canneries
Brownjohn said this can be used in working with community based  cooperatives and value adding their produce.
Production is done by hand and up to 80 cans are produced by 3 workers in an hour.
This process includes canning raw product and sealed before being cooked under pressure retort at 121 degrees centigrade.
Play Audio
Projects are already in operation in the Marshall Islands, Bougainvillea and Kiribati while Solomon Islands and Palau have shown interest.

PNA is also investigating the operation for all three islands of Tokelau.

Tags: