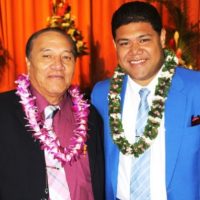 Joint hearings for the proposed Fiscal Year 2018 budget for ASG begin tomorrow
During the House session today, Chairman of the Budget and Appropriations Committee, Rep. Vailiuama Steve Leasiolagi announced that a schedule has already been set for the joint budget hearings.
The House session will therefore start earlier than usual, at 8am.
Meanwhile the chairman of the Senate Budget and Appropriations Committee, Senator Magalei Logovi'i informed senators that their regular session will begin at 9 am followed by the joint budget hearings at 9:30 a.m.
Last week, Senator Magalei didnt think it was possible to have a joint budget hearing because of limited space in the Fono guesthouse where the Senate sessions are being held.
First to testify on the government spending plan for Fiscal Year 2018 are the Budget Director Catherine Saelua and Treasurer Ueligitone Tonumaipe'a.
After lunch, the Governor's Office will have their budget review.
Other divisions of the Governor's Office include Historical Preservation/Tamaligi Project and the Sports Complex including the Iliili Golf Course, the Solaita Field and the Veterans Memorial Stadium in Tafuna.