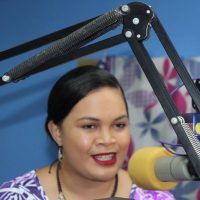 The only pageant that Miss American Smaoa competes in is the Miss Pacific islands competition held each year.
The regional contest promotes the grace, charm and talents of Pacific island women, and showcases creations of the region's designers through the outfits that the contestants don on stage and during events leading up to the competition.
The physical sizes of the contestants in the Miss Pacific Islands Pageant is not the slim, model like figures which are the standard of western beauty pageants.
Miss American Samoa Antonina Lilomaiava has her opinion about the look of contestants of the Miss American Samoa pageants,
Play Audio
Tags: