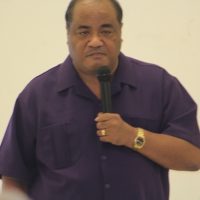 Since we reported last week that Sua Representative Puleleiite Tufele Lia Jr. is still considering whether to step down from his House seat or his positions with the American Samoa Telecommunications Authority, avid listeners from within ASG have pointed out that the faipule is violating the constitution of American Samoa.
Puleleiite was appointed by Governor Lolo Moliga in April to be chairman of the Board of ASTCA.
In May, the Board voted to have Puleleiite also take over the position of Interim CEO of ASTCA while the position is advertised.
Alex Sene Jr., who was CEO, was moved to head of Technical Services and in July his contract expired.
According to Puleleiite, Sene didn't agree with the terms of his new contract and his employment with ASTCA ended.
Meanwhile, the CEO position was advertised and attracted applicants which Puleleiite said didn't make the cut.
The job will be re-advertised next month.
In an interview with KHJ News, the Interim CEO said he hasn't decided but was still considering whether to step down from his lawmaker position, or whether to leave the ASTCA positions.
He said there were things he wanted to complete for his district.
And at ASTCA, there were projects on his wish list to achieve, such as improved internet service and upgrading ASTCA's mobile phone service to 4G.
Listeners of KHJ News point out that the revised constitution of American Samoa prohibit lawmakers from holding positions in the American Samoa Government.
KHJ News researched and found this to be true.
Section 3, qualifications of members of the  House of Representatives spells out: "No employee or public officer of the Government shall be eligible to serve in the Legislature while holding such position." This prohibition was effective on July 1, 1971.
There have been lawmakers working in private sector jobs while also serving as House Representatives and Senators.  But never  a government employee occupying a House or Senate seat at the same time.
A management level employee of ASG who wished to remain anonymous said that the Sua lawmaker should read the constitution and do the right thing.