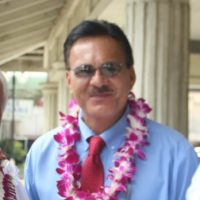 Alataua Senator Paepae Iosefo Faiai has again raised questions about a Leone High School teacher accused of having a sexual relationship with a student.
Yesterday Paepae asked the chairman of the Senate Education Committee Senator Faiivae Alex Iuli for an update on this subject.
Faiivae didn't give any response.
At a Senate Education Committee hearing last month, which was prompted by enquiries from the Alataua Senator, the principal of Leone High School said that all information concerning this case was beign handled by Deputy Director of Education Fa'aui Vaitautolu .
In response to KHJ News questions, Vaitautolu said she was the one who reported allegations that the teacher had a sexual relations with a student.
This was after victims advocate, Mrs Ipu Lefiti, approached the Director of Education and herself with information on the case.
Vaitautolu said as of now she still doesn't now what's happened to this case.
When she followed up with the Department of Public Safety, she was told that they are not able to investigate because the identity of the alleged victim cannot be revealed, as he's a minor.
Vaitautolu said the only person who knows the victim's name is Mrs. Ipu Lefiti.
The teacher left the territory before the end of the last school year and has not returned from the mainland.