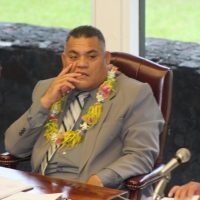 Manu'a faipule Vesi Fautanu Jr. has  experienced first hand the struggles of local veterans needing medical check ups and treatment off island.
The second term lawmaker has been off island since May for medical reasons.
What was supposed to be a routine check up in Honolulu tuned into surgery for an ear, nose and throat condition Fautanu says stemmed from when he was in the service in the Middle East.
He is not cleared to return home until a follow up check up next month.
Fautanu called KHJ News yesterday to raise concerns about the challenges that veterans residing in the territory face.
He said many veterans have forgone their VA appointments because there are no available seats on flights to Honolulu.
He also says the $20 daily meal ticket from the VA may only be enough to cover breakfast.
The Manu'a lawmaker is happy that Congress has passed legislation which gives veterans the choice for doctors and other private clinics for their appointments but says the unique needs of veterans in American Samoa have still not been addressed.
Rep Fautanu says he's heard a lot of statements from Congresswoman Aumua Amata on veterans issues but says, "you can make a lot of noise but what are the results?"
The Manu'a lawmaker says it's evident that the lot of local veterans is not getting the benefits they are entitled to and something needs to change.
He is hoping to meet with Congresswoman Aumua Amata , who serves on the VA subcommittee, to strategize on solutions.
Fautanu points out, "American Samoa has the highest per capital rate of enlistments in the Armed Services and also the local Army recruiting station tops all others…that should count for something."