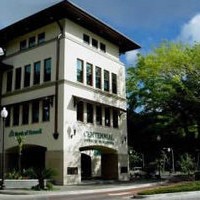 Bank of Hawaii's plans to withdraw from American Samoa have not changed.
BOH Vice President, American Samoa, Mr. Ozu says an exact date for BOH's departure has not been set, but their plants to exit remain intact.
Officials from BOH headquarters arrive this evening to present donations to Hope House and the Boys and Girls Club of American Samoa.
Ozu said their current level of services as a Limited Agency will continue.
These services include: paying and receiving, (Deposit/Withdrawals), collection of loan payments and transferring of funds.
Ozu said BOH can also perform account maintenance services such as name, address changes, along with other routine tasks.
Asked about the possibility of adding services which were discontinued after it announced it was closing local operations, Ozu said BOH will  not be offering any "new" services but the bank is always encouraging  customers to take advantage of their  electronic banking channels.
He said their Mobile App (available for free download) has recently undergone some enhancements such as Card-less Cash and the ability to personally manage, PIN changes, travel notifications and personal alerts.
BOH moved out of the Centennial Building in Utulei last September and is now operating out of its Tafuna branch.
At a House of Representatives hearing in April,  the governor's Chief Legal Counsel Steve Watson was asked when Bank of Hawaii will leave the territory.
Watson said BOH has committed to remaining here until the Territorial Bank of American Samoa or another bank can be fully operational.
This would require TBAS to have a transit routing number and provide a full suite of banking services.
TBAS has been working on acquiring a routing number since it opened last year.