The American Samoa Power Authority (ASPA) dedicated its new $4.6 million Operation Center at Tafuna, Friday.
This replaces the old ASPA office at Satala that was destroyed by the tsunami in 2009.
$3.73 million of the price tag for the building was provided by the Federal Emergency Management Administration (FEMA) and the balance was paid by ASPA customers.
In his remarks, Governor Lolo Moliga commended the ASPA board for another successful accomplishment.
Play Audio Lolo-ASPA-Utu
The building is the second LEED or Leadership in Energy and Environment Design structure in the territory and will be completely powered by renewable energy.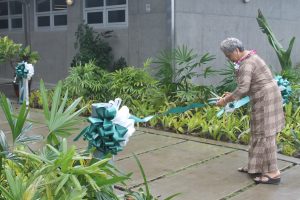 The first LEED building in the territory is the American Samoa Environmental Protection Agency building in Utulei.
Executive Director of ASPA Utu Abe Malae said their new building is awaiting Platinum certification which will make it the most energy efficient building in the Pacific .
Play Audio Utu-LEED-Platinum
Utu acknowledged the support of the ASPA board chaired by Fonoti Perelini Perelini, companies, individuals and government leaders who were instrumental in bringing this project into reality.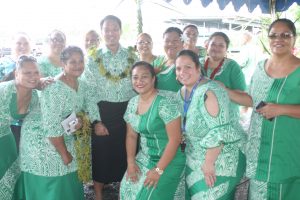 Governor Lolo and Lt. Governor Lemanu Peleti Mauga, as well as former Governor Togiola Tulafono whom he said nurtured the vision .

Also acknowledged were Mark Lively of Lively Architects of Honolulu who designed the building as well as the general contractor, Paramount Builders Inc as well as subcontractors.

Tresmal – Workshop Equipment Supplier was also on the list of those who were given special mention.

The ASPA building features Samoan motifs and artwork by local art professor Reggie Meredith and partner Su'a Tupuola Wilson Fitiau who used recycled Styrofoam and broken glass on one of their creations

First Lady Moliga cut the ribbon to officially opened the building followed by a tour from the guests.

Tags: