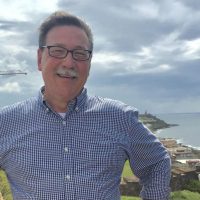 President Trump's expected pick to head insular issues at the Interior Department has plenty of experience dealing with the islands…and may also bring new impetus to fiscal management in the territories.
KHJ News Washington DC Correspondent Matt Kaye reports—
Doug Domenech is "almost a natural choice" for the Assistant Secretary for Insular Affairs, according to Fred Radewagen, who knew Domenech during his time in the Bush Interior Department as an Acting Deputy Assistant Secretary, Deputy Chief of Staff and liaison to the White House.
Radewagen, husband of American Samoa's Congresswoman Aumua Amata Radewagen, and himself a former Interior official, says Domenech knows island issues…
Play Audio
But Domenech, expected to be confirmed by the Senate, would bring another element to the job…his family is from Puerto Rico, now bankrupt and struggling with massive debt.
Radewagen says that could be a plus, versus a minus, for the islands…
Play Audio

American Samoa, Guam, and the Northern Marianas are all thought to be vulnerable to the fiscal contagion of Puerto Rico.
Congress has relied on the GAO to monitor the islands' financial health, including new audits due this month, but has failed to intervene when auditors brought back reports of "fiscal challenges" or "serious internal control weaknesses" in the islands.