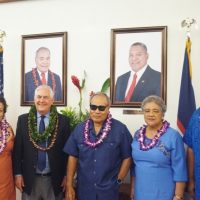 The governor left the territory Friday night apparently for a medical check up in Honolulu.
Governor Lolo is reported to be having problems with his eyes , which is the reason why he sometimes wears sunglasses even at night.
At Friday's cabinet meeting, Lt Governor Lemanu Peleti Mauga mentioned that the governor would be traveling off island but did not provide any details.
Governor Lolo did not attend Memorial Day ceremonies as well as Samoa's Independence celebrations due to the condition of his eyes.
He did manage however to attend at a few high school graduations.
Its not known how long the governor will be away.
Lt. Governor Lemanu is now acting governor.