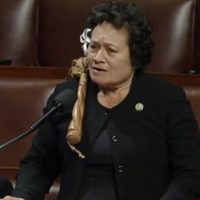 The new Congress has been in session just a few weeks, yet cabotage reform to improve air service between the islands of Tutuila and Manu'a flew out of the House and over to the Senate at lightning speed.
The Senate passed cabotage language as part of comprehensive territories legislation last year, but a lame duck House did not take up the broader bill sponsored by Energy Chair Lisa Murkowski, since it included other provisions, Homeland Security officials objected to.
Those dealt with the bill's changes to the REAL ID Act that makes citizens of the Freely Associated States eligible for driver's licenses or personal ID cards.
Congresswoman Aumua Amata Radewagen reintroduced her stand-alone cabotage bill this Congress, with bipartisan support, to over come those objections.
Amata argued there's a desperate need for improved air service in American Samoa:
Play Audio
Since the House bill is a freestanding measure, it's not identical to the comprehensive bill the Senate passed last year, and must return to the Senate for final ok.
House committees with jurisdiction did not seek to reconsider Amata's bill, since it was identical to her measure last year, so it sped directly to the House floor.
The Senate is also expected to use streamlined procedures and approve the bill under so-called unanimous consent rules.
Foreign carriers under Radewagen's bill, would not have to renew their US waivers within American Samoa for 180 days, versus every 30-days, now.
Polynesian Airlines is now the only carrier providing service between Tutuila and Manu'a.
Cabotage reform was one of Amata's first goals after taking office—changing the law to allow foreign carriers to make multiple stops within American Samoa, without having to first return to foreign soil or get a federal waiver each month.
The effort is seen as a way to broaden American Samoa's economic prospects with more emphasis on tourism.