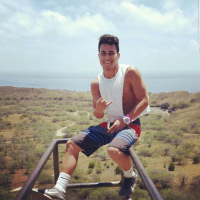 The 20-year-old shot in the head following an altercation at Ala Moana Center on Christmas Day has died.
Steven Feliciano was in a coma since the shooting, and his shooter remains at large.
Police have reclassified the case to second-degree murder and are searching for the person they identified as the suspect, 20-year-old Dae Han Moon.
Authorities say Moon and his friends got into an argument with Feliciano and his friends before Moon allegedly pulled out a gun on the fifth floor of the new Ewa wing parking structure at Ala Moana.
Feliciano died Wednesday evening with his loved ones by his side.
While investigating, police also found that two other male suspects threatened a witness to the incident. One of them, 21-year-old William Kan, was located and arrested Wednesday night. The other suspect remains at large.
Feliciano was shot in the back of the head, and taken to a hospital in critical condition.
Doctors had told the family Feliciano was brain dead, but they had held out hope that he would pull through.
While Moon still remains at large, the Feliciano family is left grieving and several others are left on edge.
If you would like to help the family with funeral expenses for Feliciano, click here https://www.gofundme.com/stevies-funeral,