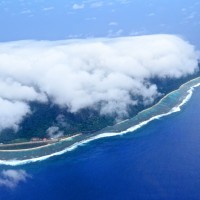 The National Park of American Samoa and Manu'a were featured in the travel section of the LA Times as part of the celebrating 100 years of the National Park Service.
The write up by Christopher Reynolds was titled, "In this 'weird, lost corner of America,' the beach of your dreams awaits in the remotest national park."
Part of the article reads National Park of American Samoa https://www.nps.gov/npsa/index.htm, 2,600 miles southwest of Hawaii, is spread over parts of Tutuila, Ta'u and Ofu.
It attracted 13,892 visitors last year, about what Yosemite gets in a summer day.
Probably fewer than 300 of them found their way to the park's greatest asset, a beach on Ofu with creamy sands, volcanic boulders, serrated mountain ridges and turquoise shallows — but I'm getting ahead of myself.
This park gets so few visitors for many reasons, including the 11 hours of flying time from California, the exasperating transportation links among the islands, the territory's scant infrastructure and its mosquitoes, some of which transmit dengue fever and Zika virus.
Although the park does have rangers, trails and a few miles of road, there are no campgrounds or lodgings, no snack bar, no shuttle buses, no entrance gate, no admission fee — few of the conventions that Americans imagine when they hear the words "national park."
"It's probably the most remote culture you can visit that's still in the U.S.," park superintendent Scott Burch told me on my visit in October 2015. "It's the only paleotropical rain forest in the U.S.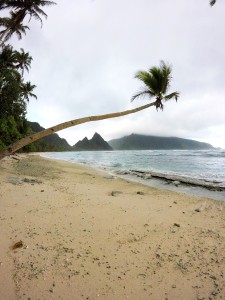 "My first couple of hikes around here — it was just a wonderland of things I'd never seen."
The writer directs attention to Ofu beach comes towards the end of the article.
Reynolds writes, "On the next leg of my trip, a 60-mile hop to the island of Ofu on Polynesian Airlines, I saw why the park service had been eager to gain a toehold here.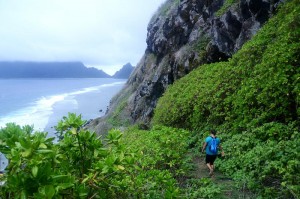 "As our Twin Otter swooped, I could see coral gardens lining the beach and a 1,000-foot-high ridge of solid rain forest looming above. The airstrip was wedged in between.

"It's this weird lost corner of America," Terry Skaggs told me on the phone from his home in Rock Island, Ill.

Skaggs has visited Ofu more than 20 times since 1999 and does pro bono website work for the Vaoto Lodge http://www.vaotolodge.com

I called him before my visit to get advice. He had warned me about Pago Pago and the general state of transportation and communication.

"But when it came to Ofu," he said, :the minute I stepped off that plane I knew I was in love."

Fifty paces from the landing strip stood the eight-room, cinder-block Vaoto Lodge, my home for the next two nights, and innkeeper Deborah Malae, whose family built the place.

Ofu looked like a movie set abandoned by its cast.

There are a couple of villages with a combined population of about 200, a handful of vehicles, a few miles of road, no scuba facilities and probably more abandoned homes than occupied ones.

Black boulders pepper the shoreline.

And Ofu Beach — well, this was the reason I flew 5,000 miles. It's the beach at the end of the world — the loneliest, most evocative, tantalizing stretch of shoreline I've ever seen.

Click here for full article
<https://www.google.com/url?rct=j&sa=t&url=http://www.latimes.com/travel/la-tr-nps-american-samoa-20161226-htmlstory.html&ct=ga&cd=CAEYACoUMTY5NDAzNjc4MjE0MDEzNDIwNTgyGjM2YTY0MTJlZGJkY2YxZmE6Y29tOmVuOlVT&usg=AFQjCNFkM6uBWDF0Md5LhMYYluDhTcOx4Q>

Tags: