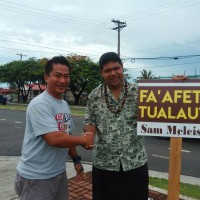 The top vote getter in the Tuala-uta House of Representatives election Samuel Ioka Ale Meleisea is certain that his victory is an appointment from God.
The 25-year old, first time candidate topped the polls among 8 candidates who contested the two seats for Tuala-uta.
He received 978 votes compared to incumbent faipule Vui Florence Saulo's 760 ballots.
The well spoken Meleisea said he thought of running in May and sought his parents blessing.
But they said this wasn't his time.
He obeyed his parents but still yearned to have his name on the ballot.
So in July he again approached his parents who gave him the same answer.
Samuel who is a ranger and bio-technician with the National Park of American Samoa said that's when he left it up to God to speak to his parents if it was really God's will for him to run.
Confirmation came a week before the deadline for candidates to register for the elections.
His parents came to him and gave their blessings to do whatever God has placed in his heart.
Meleisea said God's plan for him, including the people who backed him, is the reason for his victory.
With the short time he had to campaign for the seat, Meleisea believes that social media contributed greatly to his success at the polls.
He was able to introduce himself and reach out to his District of Tuala-uta.
Meleisea also knew that he was up against older, more experienced and more affluent candidates.
He is confident divine power played a role in his success.
Play Audio
The son of Peniamina and Mrs. Fa'auliuli Meleisea of Iliili and Afega, the winning candidate prefers not to make promises but to observe and make a plan to prioritize critical needs.

Meleisea, a member of the Alofa Tunoa Pentecostal church in Puapua Leone acknowledged his spiritual parents Atiuoletavae Dr. Elia Tavai Esera and Pastor Amy Wendt Tavai and the entire church for their support through prayers.

Tags: