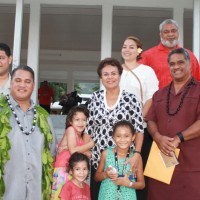 The youngest candidate on the ballot in the November 8 elections is 25-year-old Samuel Ioka Ale Meleisea.
He's one of the eight candidates gunning for the two House seats in Tuala-uta District.
A graduate of the University of Hawaii in Hilo with a Bachelor of Science in Tropical Plant Science and Agro-ecology, Sam is currently a Rainforest Bio Technician for the National Park of American Samoa.
The Tafuna High School graduate believes that the territory is destined to do great things and the future is now.
He told KHJ News young people need to take the reins of government now.
Play Audio
Tags: