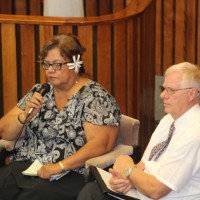 The chairman of the Board of Directors of the Territorial Bank of American Samoa said it's disappointing that the commercial banks have given up on making loans to local residents.
Utu Abe Malae told a hearing of the Senate Government Operations Committee this morning that the government bank will have a loan portfolio.
Senators asked several questions about loans.
Utu said bank policies and by laws have been put in place for lending.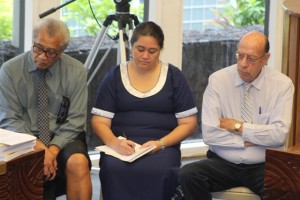 He said the local market for finance is different in that cultural practices influence people's savings and borrowing.
Utu told the hearing, "It's disappointing that the commercial banks seem to have given up on lending in the territory."
But he said people who borrow like a radio ad he's heard, have to remember to repay their loans.
Board member Salaia Gabbard, who's doing marketing for TBAS, explained that small loans of $500 to $2500 will be available a month after the bank opens next Monday.
Responding to a question from Senator Magalei Logovii she explained the bank's criteria for loans.
Play Audio
Senator Gaea Perefoti was apprehensive about payroll deductions for loan payments recalling that when Utu was DBAS president and Gaea was Treasurer, Utu sought help to deal with ASG employees who sign up for payroll deductions, then later go to Treasury to stop their payroll deductions.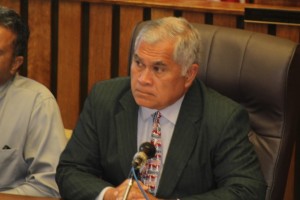 He said, "Our people will make promises to get what they want then forget their promises as soon as they get their loans."
The TBAS Board of Directors has set policy prohibiting members of the Board and officers of the bank from obtaining loans.
Senator Gaea was direct with his question to board member Steve Watson concerning loan applications.
Play Audio
Tags: